VNPT-MEDIA: CHALLENGES ARE ALSO OPPORTUNITIES
14:59, 10/01/2019
In the opening speech of VNPT Media Corporation's 2019 Plan Implementation Conference that took place in the morning of January 7th 2019, Mr. Huynh Quang Liem, Deputy General Director of VNPT Group, President of VNPT-Media said: "2018 was a difficult year for VNPT-Media Corporation because of the fierce competition in the market and the change of state policies. It must be said that the completion of the past year's revenue and profit plan is a remarkable result of the Corporation, which originated from the close guidance of VNPT Group's leaders, from the support and close coordination of other Corporations in VNPT Group and VNPT units in Provinces/Cities, as well as from the efforts of all VNPT-Media employees".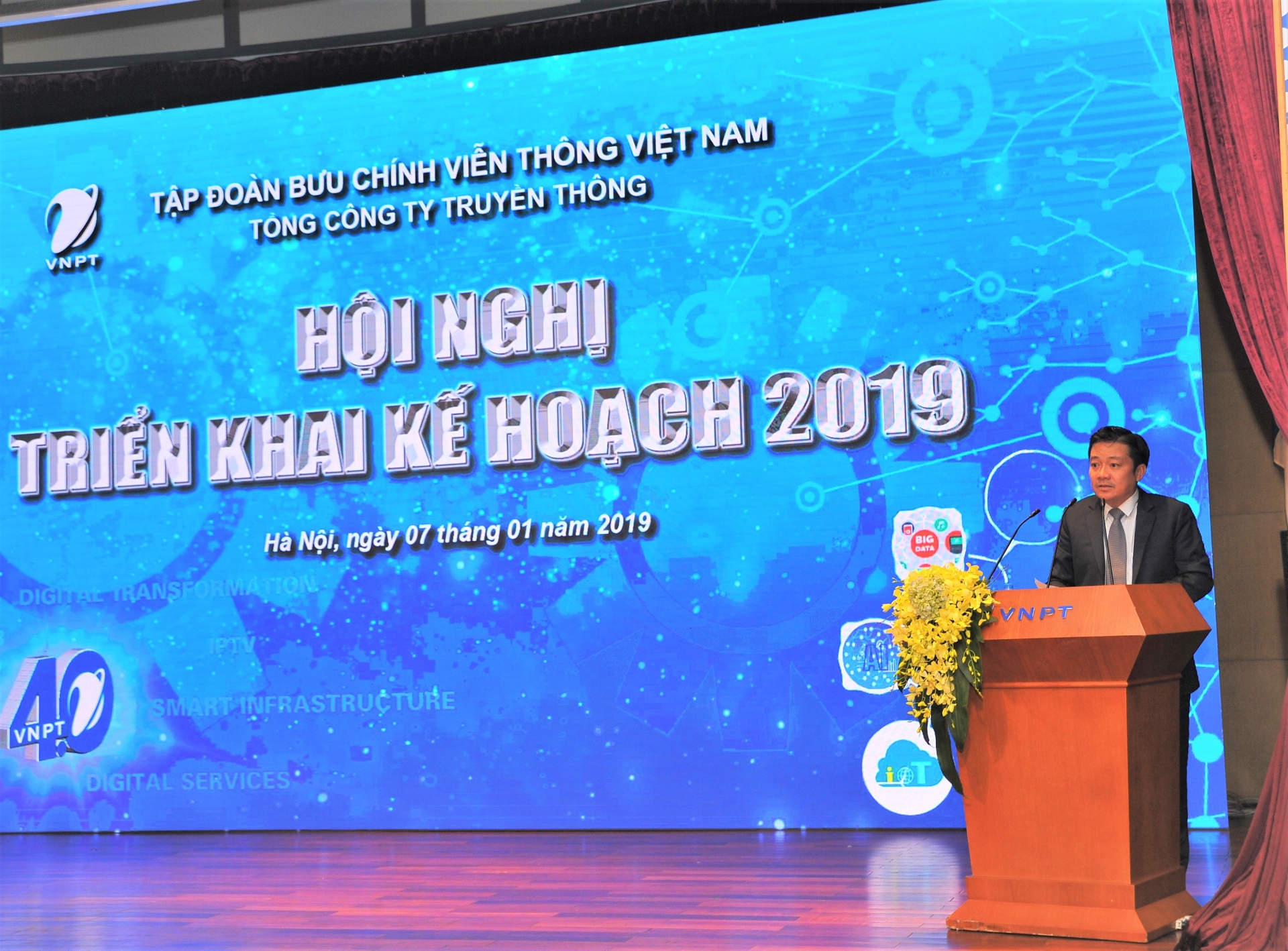 According to data reported at the conference, VNPT-Media's total profit reached 106% and total annual revenue reached 100.3% compared to the assigned plan.
This achievement wasn't easily reached for a relatively young enterprise. Right from the beginning of 2018, VNPT-Media's Board of Directors had given comprehensive instructions to the operation of each subsidiary unit. Irregular meetings were often held to find solutions to develop the corporation's services. In 2018, the Television Service MyTV had added many HD channels to its MyTV and MyTV Net broadcasting. Currently, MyTV has 241 channels including 70 HD channels, which makes MyTV a PayTV service provider with the largest number of channels in the market. MyTV Net has 164 channels, including 35 HD channels, which makes MyTV Net the OTT television service provider with the largest number of channels in the market. Not only adding broadcast channels, MyTV also provided MyTV and MyTV Net users with new and attractive content, including sports programs such as World Cup 2018, ASIAD 2018..., cooperatively produced exclusive films, additional VOD content such as parallel- broadcasted movies, professional basketball tournament livestreams, awarding ceremonies... MyTV had increased investment in converting tens of thousands of movie hours to provide customers freely, increasing customers' experience. Besides, VNPT-Media also promoted research and applied modern technologies to MyTV service system such as diversifying terminal equipment, accelerating cooperation to bring MyTV and MyTV Net applications to SmartTV, integrating MyTV Net service with OTT platforms for SmartTV...
In the field of digital services, VNPT-Media stepped up in searching for new partners while implementing many methods to optimize its service, such as re-organizing its fee packages, adding and upgrading new features, cooperating to produce special and exclusive content, developing VNPT BigData platform. Content services were also focused in providing highly innovative multimedia content.
In 2018, VNPT-Media also concentrated resources to add new features and improve the quality of software services to increase its competitiveness in the market. As a relatively new service of VNPT-Media, VNPT Pay electronic payment portal placed its focus on enhancing customer experience, expanding its features and payment channels, especially ensuring the ability to serve customers' essential needs such as airline ticket purchase, car ticket purchase, movie ticket purchase, hotel reservations, insurance finance fees, payment of television fees, payment of electricity and water bills... The service was integrated with VNPT's products, such as MyVNPT Application, Public Administration Software... After a short time of testing, VNPT Pay had made breakthroughs in terms of service quantity and quality. Currently, VNPT Pay has directly connected with 13 banks, including 4 banks with interprovincial networks and 9 banks with large networks in big cities and industrial parks.
Party and Union work steadily improved, contributing positively to the corporation's successful completion of its political tasks and planned targets.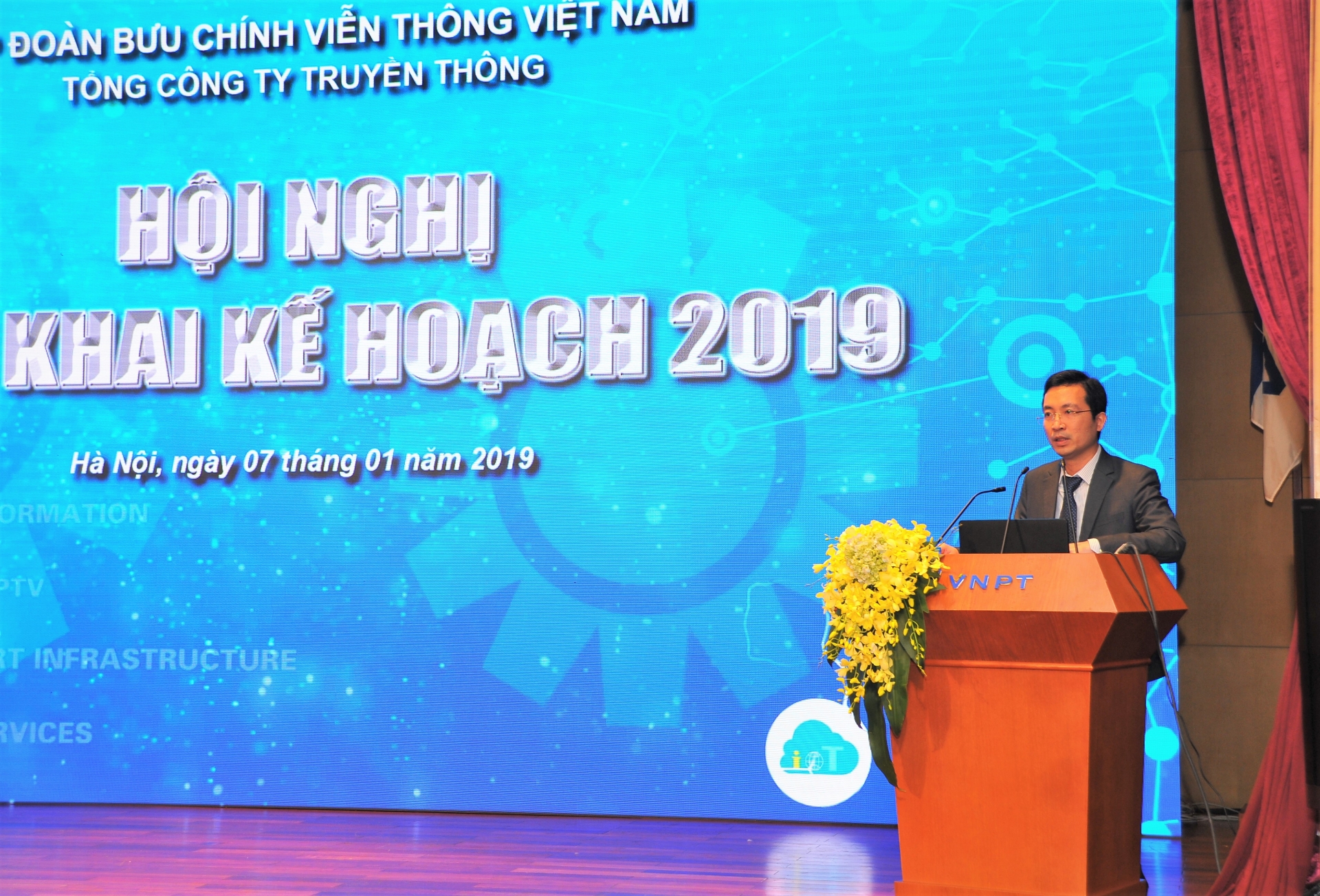 According to Mr. Duong Thanh Long, General Director of VNPT-Media, besides the results achieved in 2018, VNPT-Media still has limitations and shortcomings that need to be overcome. VNPT-Media will need to continue transforming its existing services into digital services, following the VNPT 4.0 Strategy of VNPT Group. The corporation also needs to strengthen its research and development work, focusing on the four basic platforms: OTT, Payment, IoT and Big Data, to develop and release good-quality products to the market, meeting the needs of customers and of the society.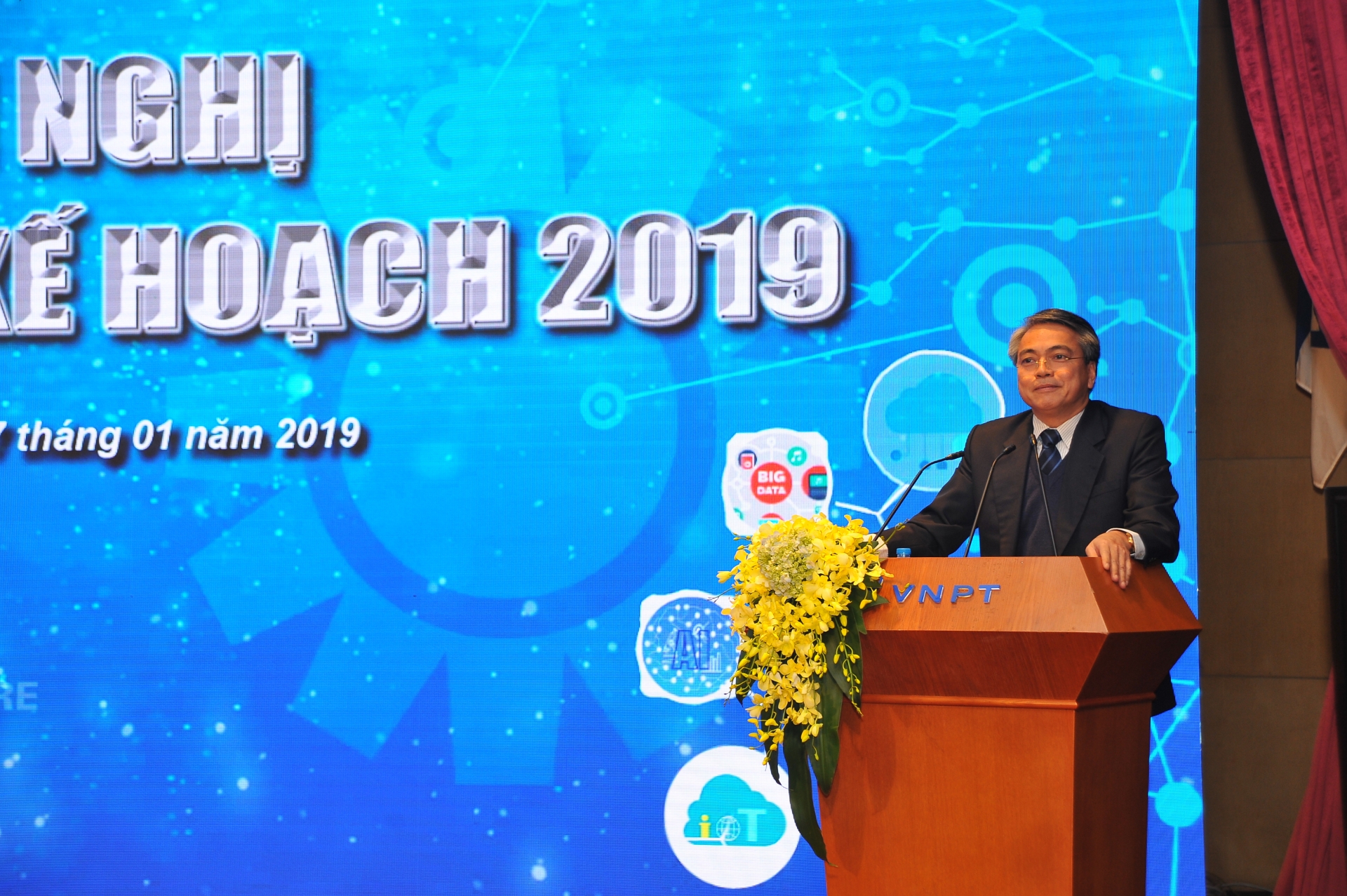 Attending and speaking at the Conference, Mr. Tran Manh Hung, Chairman of the Member Council of VNPT Group, also identified the corporation's achievements as well as the shortcomings to overcome. According to Mr. Tran Manh Hung, in the current period, VNPT Group is IT-izing its network, digitizing infrastructure to switch to Cloud, AI, BigData... To do this well, each individual in the Group must see clearly his own role and responsibility while corporation leaders must understand deeply the Group's strategy to apply to their corporations. With VNPT-Media, the Group highly appreciated the activities of the Corporation in 2018, especially the participation and methodical implementation of strategic projects which brought clear and sharp changes to the Corporation.
Entering 2019, the leaders of the Group expected the Corporation to continue to have strong innovations; apply modern management platform; quickly create advantages in term of providing digital services; promote VNPT-Media's culture which centralizes on the dynamic, creative, proactive and entrepreneurial spirit; strengthen high-tech human resources; bring into full play the ability and wisdom of the staff; associate personal interests with collective interests; bring VNPT-Media and VNPT Group to a regional and international level, aiming to become a HUB center of Asia in 2030.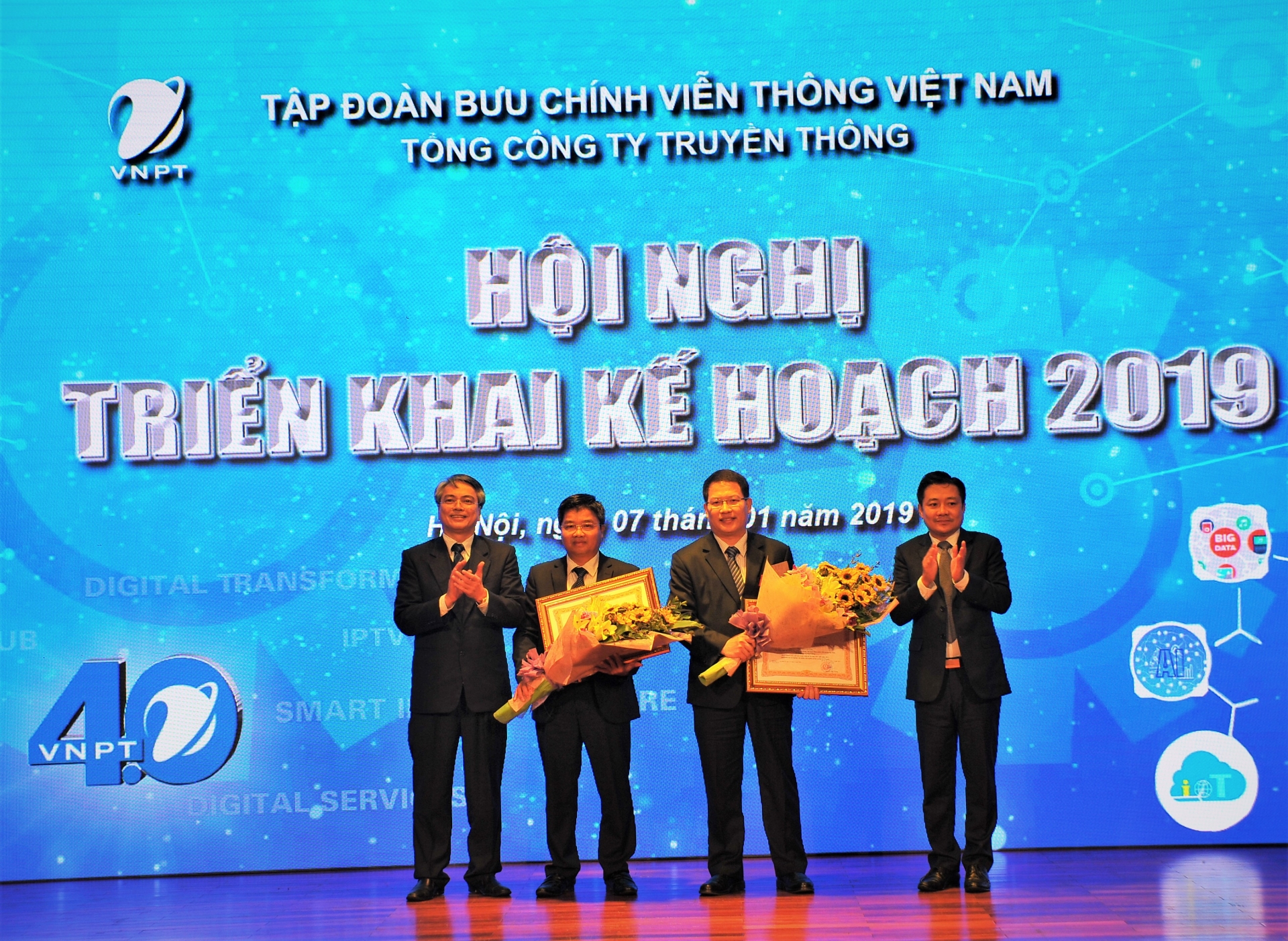 At the Conference, with the authorization of the President of Vietnam, Mr. Tran Manh Hung, Chairman of the Board of Members of VNPT Group and Mr. Huynh Quang Liem, Deputy General Director of the Group, Chairman of VNPT Media Corporation, awarded the Third Class Labor Medals and flowers to two Deputy General Directors of VNPT-Media: Mr. Nguyen Van Tan and Mr. Huynh Ngoc Tuan for their outstanding achievements from 2013 - 2017.