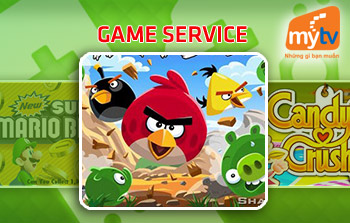 Game Service
This service enables you to select and play games on large TV screens right at home with vibrant images, eye-catching and modern interfaces.
You can choose a game from an up-to-date list, and there is a wide range of genres for you to select from, including: Funny, Classic, Education, Adventure, Strategy, Action, Sports.
With games that are of unique genres, exceptional design ideas and eye-catching graphic styles and 3D images, MyTV audiences will certainly have the chances to enjoy new and exciting experiences. Gamers can opt for different gaming modes such as single player, multiple players or trial play.