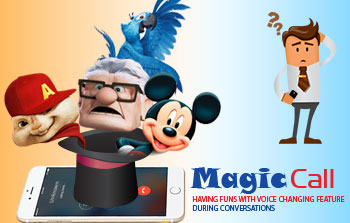 Magic Call Service
Have you ever thought of changing your voice when making a call to someone? Our Magic Call and Magic Voice services will make this possible for you.
This service is created with the aim to give you funny and enjoyable moments while chatting with friends. You can change your voice in many different voices during a call without changing the content of your conversation.
Magic Call and Magic Voice are very simple to use. To register the service and choose the voice you want to change to, text DK to 1567 or call to 1567 (for Magic Call service) or text DK to 1526 or call to 1526 (for Magic Voice service). Then, dial the call center and the number you want to call to enjoy amazing surprises brought by the service. Your phone conversation will now be more enjoyable than ever before!