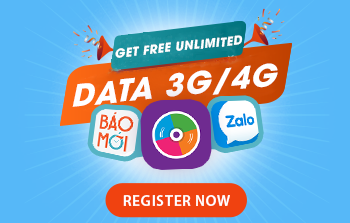 Z-Data Service
Data packages: Zing MP3, ZData, Zalo Plus, Bao Moi Newspaper allow customers to access entertainment applications, experience multimedia services on Zing MP3, Zalo, Bao Moi Newspaper and Zing.vn without worrying about losing 3G / 4G fee. Website registration at: http://zaloplus.vn/
Zing MP3 Zdata package is a service package that allows customers to easily enjoy online music on mobile phones anytime, anywhere without worrying about high speed 3G / 4G charges for listening / downloading Lossless quality; watch / download HD quality MV, not being disturbed by ads ... Download the app at https://mp3.zing.vn/app
Zalo Plus package is entertainment package, general utility. Customers can access the content and data package including Zalo, Zing MP3, New Newspaper, Zing.vn without worrying about expensive fee for high speed 3G / 4G:
Bao Moi package is a service package that allows customers to access content and information data from Bao Moi newspaper (website/wapsite: http://BaoMoi.com or download application at http://baomoi.com/app) and Zing.vn (website / wapsite address: https://news.zing.vn ) are not limited to high speed capacity to access and use the service.
Conditions and users:
VinaPhone subscribers are operating in two directions.
Subscribers must use Mobile Internet service and be in range of GPRS / EDGE / 3G / 4G of VinaPhone network or have internet connection.
Subscribers' mobile phone is supported 3G/4G or can be compatible with iOS, Android, Windows Mobile