VNPT-Media: Realizing IoT through VNPT's smart infrastructure and platforms
10:43, 19/11/2019
That is the presentation VNPT-Media brought to the International Exhibition & Conference - Smart IoT & Cyber ​​Security 2019 held in Ho Chi Minh City on November 13th, 2019. This presentation is presented by VNPT-Media representative and Technology Specialist, Mr. Nguyen Huu Tri.
Speaking at the Conference, Mr. Tri shared: IoT is the infrastructure of sensors to recognize the real world accurately. IoT provides a large and authentic data source and serves as the input of AI algorithms, helping products and services become smarter, more transparent, more secure... with BigData, AI, Blockchain, Smart machine technologies.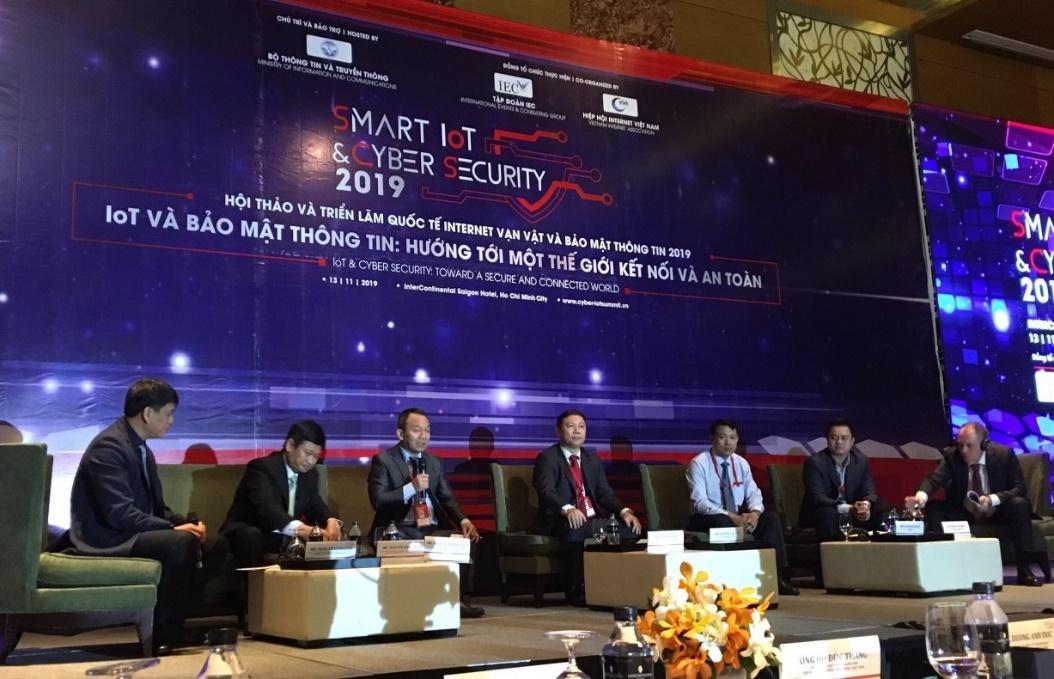 The speakers participated in the seminar at the International Conference and Exhibition - Smart IoT & Cyber ​​Security 2019
With many years of experience in the field of technology - telecommunications, VNPT has approached IoT and developed VNPT Smart IoT Platform - a platform that helps businesses master technologies. The platform supports a flexible business model, packaging a complete platform with IoT applications for each vertical sector or selling the platform to device manufacturers and IoT solution vendors. The platform also provides IoT platforms with Whitelabel capabilities on Public Cloud for IoT service providers; providing development environment for IoT application developers including levels: Designer, Composer, SDK, API... VNPT Smart IoT Platform also supports development models of IoT application solutions, both Hosted Model and External Model.
Up to now, VNPT Smart IoT Platform has been used by VNPT to develop many IoT applications in various fields to serve customer needs. Among them are the applications of VNPT Smart Agriculture, VNPT SmartTrace, VNPT SmartHome, VNPT Smart Environment, VNPT SmartCamera...
Earlier in the conference, Mr. Nguyen Van Yen, Head of the Technology Department of Vietnam Posts and Telecommunications Group (VNPT) had a speech in the Main Report session with the topic "VNPT's IoT infrastructure is ready for the era of multi-connectivity and for the 4.0 industrial revolution". In this presentation, Mr. Yen gave a basic summary of approaches and preparation roadmap for IoT infrastructure, the SCP platform providing B2B and B2C services of VNPT, the strategic plans on development direction and on the cooperation with provinces and cities nationwide, as well as with international corporations.