VNPT participated in Smart IoT & Cyber Security 2019
10:19, 19/11/2019
After the success in 2018, the International Conference & Exhibition on Internet of Things & Information Security - Smart IoT & Cyber ​​Security has become a prestigious destination for the Security and IoT community in Vietnam. Returning in November, with the theme "Building a safe and connected world in the digital transformation journey", Smart IoT & Cyber ​​Security 2019 attracted more than 1,000 delegates being representatives from the Government and information technology managers from enterprises in the fields of Finance - Banking, Manufacturing, Energy, Transportation & Logistics, etc...
Attending and speaking at the opening ceremony, Deputy Minister of Information and Communications Pham Hong Hai affirmed: "Internet of Things (IoT) technology has the ability to connect objects and people in the real world, mapping those links into a virtual world to enhance the ability to monitor, control, and optimize the operations of businesses and organizations. It is expected that IoT will become an important growth engine that can reshape the socio-economic life in the future. The power of connection should be compared with not arithmetic progression but geometric progression". The Deputy Minister also believed that the successful outcome of this year's specialized event would bring even more practical benefits to not only the security and IoT community in Vietnam, but also to organizations and enterprises which are looking for suitable digitalization and security solutions.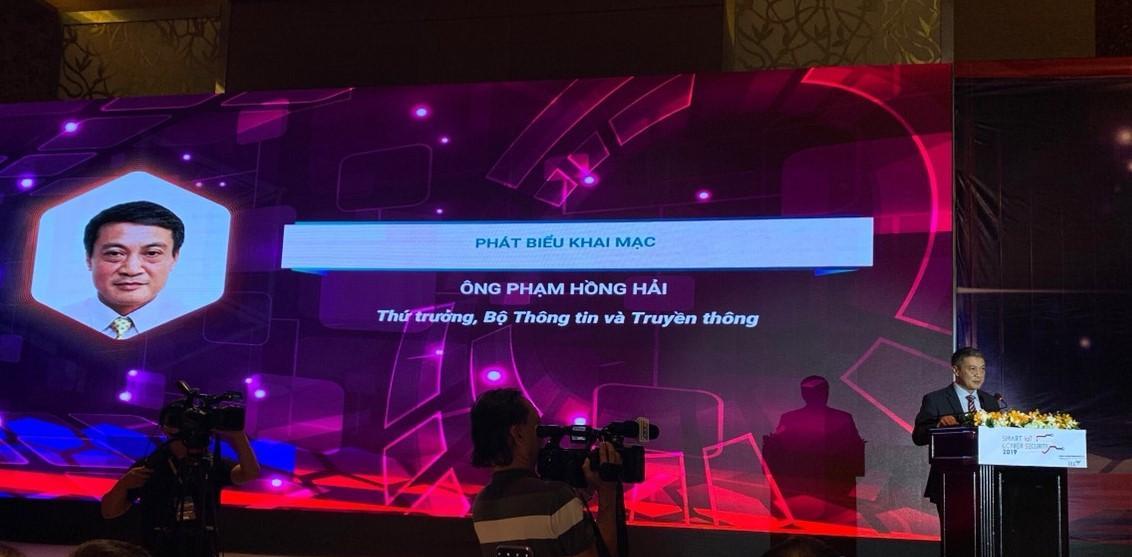 Deputy Minister of Information and Communications Pham Hong Hai gave opening speech at the Workshop
The seminar took place only in one day with a heavy program including: Opening ceremony and plenary session, two thematic seminars and two discussion sessions. The speakers attending the seminar are all Vietnamese and foreign leading experts in the field of IoT and information security.
The theme of the symposiums and discussion sessions focused on two main topics: Exploiting IoT potential in the digital transformation process and Information security management in the IoT world.
Vietnam Post and Telecommunications Group (VNPT) also attended these conferences. At the Main Report session, VNPT gave the presentation "VNPT's IoT infrastructure is ready for the era of multi-connectivity and for the 4.0 industrial revolution". At the symposium, the Corporation of Communications (VNPT-Media) also presented the presentation "Realizing IoT through VNPT's smart infrastructure and platforms".
In addition to the main program, the event also had sideline activities such as: International Exhibition to give people the opportunity to experience breakthrough technologies in information security and IoT from more than 40 reputable technology companies; Organizing meetings and discussions among strategic partners who provide enterprise-specific IT solutions; Connecting and interacting directly with experts and senior leaders from both domestic and foreign corporations and groups.
VNPT